Category Archives: Uncategorized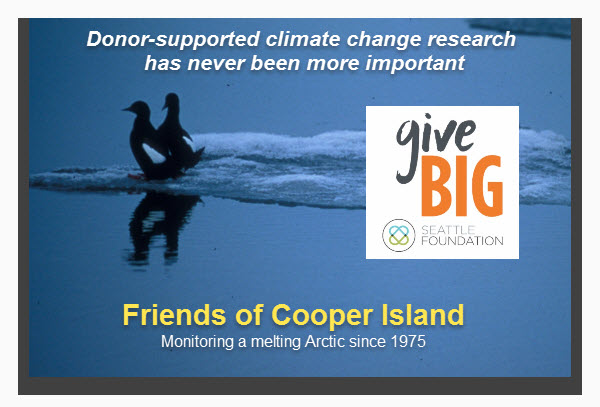 Please consider donating through the Seattle Foundation's GiveBig campaign.
On March 10, 2015 George Divoky will be giving a talk to the Audubon Society of Portland from 7:00-8:30 at Audubon's main campus at 5151 NW Cornell Road in Portland, Oregon.
More information at this link:
You are invited to Friends of Cooper Island's annual update and fundraiser on Thursday, March 27th at the Burke Museum on the Univ. of Washington campus. Doors open at 6 pm for socializing with beverages and appetizers with a presentation beginning at 7 pm.
The evening will include stories and images from our exciting 3-month 2013 field season, which produced an unprecedented quantity of data and insights. We will also talk about how the increasing pace of warming and development in the Arctic is affecting the birds and the bears on the island, and what Friends of Cooper Island is doing to keep up with monitoring these changes.
The Arctic is increasingly being seen as a region of major environmental concern and economic potential and we look forward to talking with you about our long-term work in the region. Please join us on the 27th for a fun and informative evening.