This past summer the Cooper Island field camp was thankful to have a return visit from photographer Joe McNally. Joe has been taking photos longer than I have been studying Cooper Island Black Guillemots and his website shows both the quality and scope of his work. His visit in 2001 took place before we had a cabin and was for the purpose of obtaining photos for a New York Times Magazine story being written by Darcy Frey, who had visited the island earlier that year. Joe and I had a great time during his week on the island and have stayed in touch ever since.
In January 2002 I opened the Sunday NY Times to find the magazine cover was a photo Joe had taken of me standing just off Cooper Island's North Beach in early July. Joe's cover photo and Frey's 12-thousand word story gave national prominence to what had been an obscure 27- year study of an Arctic seabird. More importantly, a national story about climate change was a rarity in 2002 and I have been told by many people that the article and Joe's photo was what first made them aware of the realities of global warming.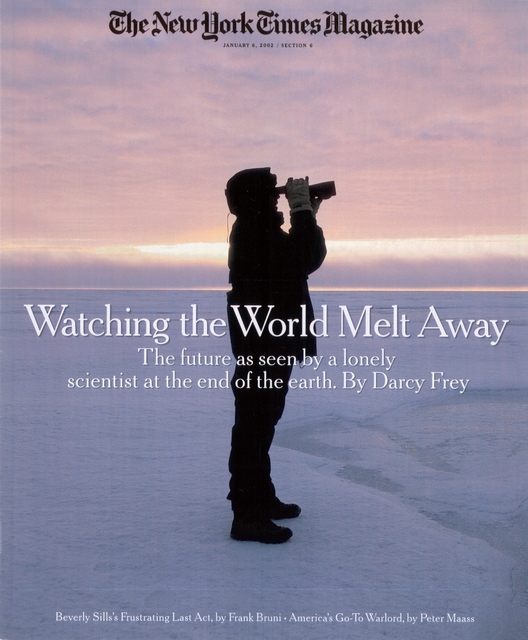 Whenever Joe and I have chatted since his first visit, I have mentioned that should he return to Cooper Island, he would not find the island surrounded by ice as he did in 2001. During the almost two decades since his visit the pace of Arctic climate change has greatly increased as the region continues to warm. The loss of sea ice has resulted in the high mortality of Black Guillemot nestlings, as parents are unable to find their preferred ice-associated prey, and regular visits by polar bears, stranded on land as their sea ice habitat melts.
I have always hoped Joe might return to Cooper Island but told him that if he were to return and try to retake the cover photo I would now be standing in water and not on sea ice. Given Joe's work schedule and international prominence I never thought he would be able to work in a return visit, but with the help of Nikon he arrived by boat in early July last summer bringing a film crew to document his attempt to retake the 2001 image of me standing on the ice.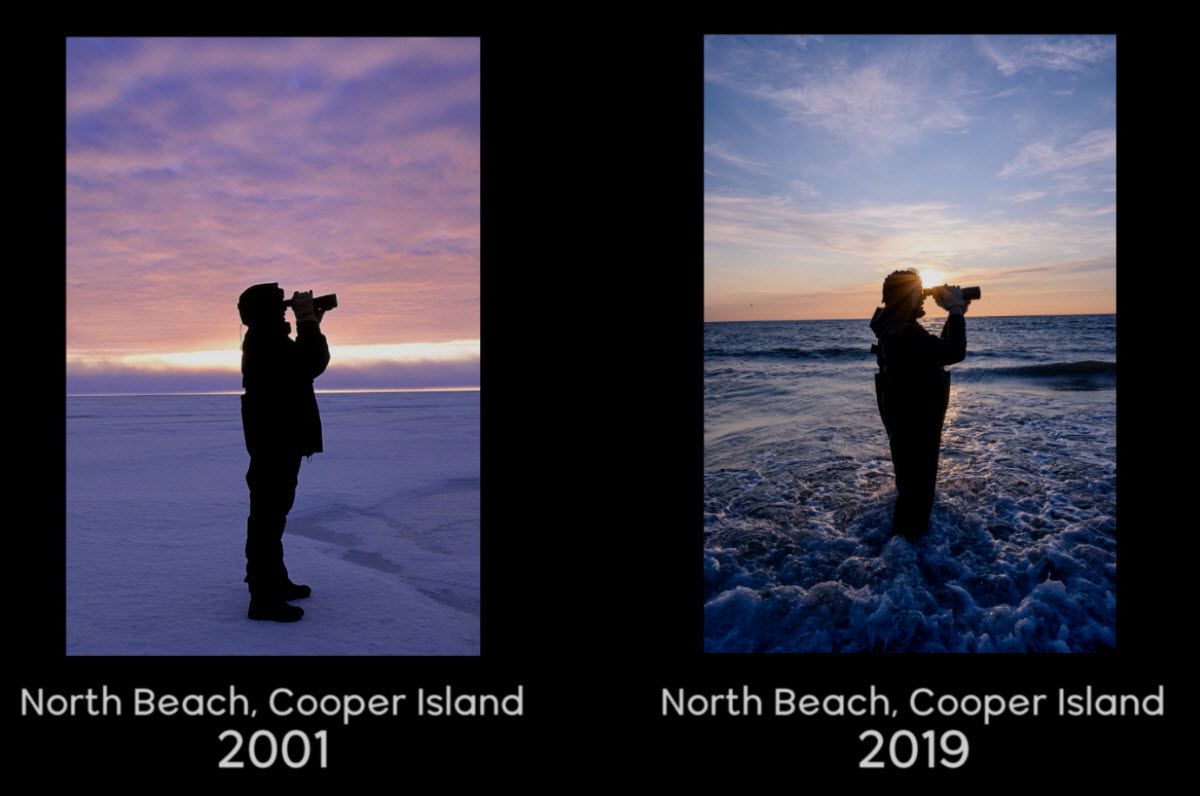 The 2001 and 2019 images tell the story of Arctic climate change as much as my 45-year database on an Arctic seabird. Joe and his crew made a video documenting his recent visit and our efforts to get the 2019 image. The video has some great aerial shots of the island and also documents why Joe is such a great photographer. He is able to ignore the frigid waters sloshing into his boots while taking the shot of me standing in the ocean wearing hip-boots.
Can't thank Joe enough for his continuing friendship and interest in my work. 18 years after his first visit he is still helping me tell the story of the Cooper Island Black Guillemots and the increasingly warmer Arctic.